Bike rental in Puglia.
We rent bikes throughout the Puglia region, as well as organize trips and bike excursions.
We carry out the delivery and collection of the bikes in the places set by you to allow you to fully and freely enjoy the vehicle.
We rent different types of bikes.
HOLLAND BIKE
The city has bicycle frame and steel fork Hi Ten.
In particular, the frame has a geometric specification for the practice of cycling in the city. It 'a low frame for easy climbing.
Single speed bike ideal for short trips on ground with little gradient. No risk of derailment and ease of use.
Rent your bike
---
CYCLING CITY / MOUNTAIN BIKE
The city has bicycle frame and steel fork Hi Ten.
This bike has 21 speeds and gradients for all-purpose tires b'Twin for roads and paths.
Furthermore, it is characterized by a fork that can absorb shocks and vibrations and mixed with gel saddle for maximum comfort in walking, stem height adjustable and swivels.
The frame has a recessed joint geometry to facilitate ascent, is also in 6061 for better transmission of pedaling. The choice of aluminum lightens the bike.
Rent your bike
---
CYCLING MOUNTAIN BIKE
This bike features a lightweight aluminum frame and reinforced, sporty and responsive, with double wall aluminum rims, suspension fork and 27 speed step.
Rent your bike
---
FOLDING BICYCLE
Bicycle bag! Fun ...
This bike is the perfect companion in the car, bus, train during your holiday. It offers the mobility of the whole family to the next level.
Transport it is very simple ... Just pull the handle and bend, loosen the seat, release the lever in the center and fold the bike in position pocket size.
Rent your bike
---
JUNIOR CYCLING
To the delight of the children...
Rent your bike
---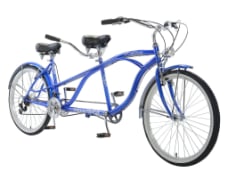 TANDEM BIKE
Biking A sporty and youthful, perfect for any age because it requires less effort than a traditional bicycle. The Tandem Beach Cruiser style: large wheels 26 ", 18 speed shimano original gear and much more!
Rent your bike
---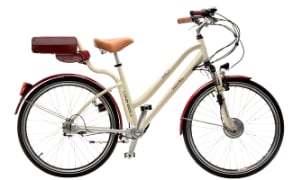 E-BIKE
Designed to move around the city, to face demanding trips, commuting and intermodal departures, all models are equipped with unique and innovative technology solutions: these bikes are perfect to fulfi ll the desire to move according to the personal satisfaction of living the urban mobility.
Rent your bike
---
CYCLING ACCESSORIES
Take your bike with the various accessories that we provide for a safe and relaxing holiday!
Helmets Urban
Helmet Junior
Seat/Trailer cart
Lighting/Reflective Jacket
---
LIST
BIKE/SEGWAY
HOURS / DAYS
EURO
No. 1 BIKE
HOLLAND
1 hour
€ 5,00
1/2 day
€ 15,00
1 day
€ 20,00
No. 1 BIKE
HOLLAND + CHILD SEAT
1 hour
€ 7,00
1/2 day
€ 20,00
1 day
€ 25,00
No. 1 MOUNTAN BIKE
CITY BIKE
FOLDING BICYCLE
1 hour
€ 8,00
1/2 day
€ 20,00
1 day
€ 30,00
Tandem
Cruiser Custom beach chopper harley
1 hour
€ 18,00
1/2 day
€ 45,00
1 day
€ 65,00
SEGWAY
Rent A DEMONSTRATION
from 30 to 45 min
€ 15,00
TOUR / EXCURSIONS
our in Polignano a mare with map
(2 people)
2 ore
€ 20,00
Polignano a mare with a tour guide
(2 people)
2 ore
€ 50,00
Tours and excursions outside Polignano a mare from 100.00 €
(2 people)
---
The Bicycle Tour of Puglia Open can be hired from any person, whether Italian or foreign, but the lessee, at its sole discretion, may refuse to hire bicycles to people in a state of drunkenness or under the influence of drugs, or other reasons.
The charter is meant by validity now, 1/2 day and daily. However, the delivery and pickup service of bicycles is available only for bookings of 2 or more days.
How to Book
Booking a hire will be possible only if guaranteed by bank transfer, representing 50% of the cost of the service booked. The final balance will be required upon delivery of the bike and before the start of the rental period.
Payment can be made by credit card, cash or bank transfer.
The hires made directly at our office in Polignano a Mare at number 13 of Via Roma, must be welded on site before the service.
In the case of rentals shorter than 1 day, the reservation must be confirmed at least 3 days before, by specifying the final number of bikes required.
Hire
At the time of hire each person must:
leave a valid ID, and if the customer is under the age of 16 must also provide suitable proof of recognition of the parent or guardian;
leave a cash deposit, which will be refunded upon return of the bicycle when the same found to be in perfect condition together with all the amenities provided at the beginning of the rental period, ie lock, pouch and reflective jacket for evening excursions and night;
communicate the address of the appropriate delivery and/or home collection, along with a telephone number;
sign the "contract for the temporary use of bicycle service."
Additional accessories such as helmets and trailer seats are available after payment of a modest surcharge.
Use of on-hired
It absolutely mandatory use of helmets by users under the age of 14 years to be fastened under the chin so as to prevent slippage and / or loss of the same accident.
In the event that the customer note any shortage or damage to equipment or accessories provided by Open Tour Puglia, must report this information before using the bike itself.
During the rental period you must not entrust to others the use of bicycles, respect road signs, pedestrian traffic and other means of transport and the rules of the Highway Code.
The user is at any time and any place responsible for the bicycle rental outlet, including damage caused to himself, the bicycle, to others and property, and theft of the same.
Rented bikes should never be left unattended but assured by the use of the padlock provided.
A representative of Puglia Open Tour, at the end of the rental, or check the conditions of the bikes, accessories and additional equipment provided to ensure that the/and the same/and result in perfect condition as it was provided.
In case of damage to parts and bicycle accessories returned by the user, will be required to refund part of the current price list and / or cost of repair.
Cancellations
Cancellations are possible with advance notice of 3 days or will incur a penalty of 100%.; Cancellations made within the time limit will still be subject to an administrative fee of 5 € for bookings up to 3 days and 15 € for booking more than 3.
Cancellation of delivery and collection services are subject to the above conditions.
Cancellations due to bad weather can be performed with the following conditions:
New reservation for a future date at no additional cost.
Good for the full amount for a future rental (valid for one year).
Additional ServicesPuglia Open Tour makes also for immediate help on the road in case of breakdown, accident and any other event with its car transfer of people and bicycles up to 25 Km at a cost of 25 €, € 1.00 for each additional km at Km
Puglia Open Tour is available to meet needs and demands, and hourly / daily or custom that can make your holiday comfortable optimizing time.